Promenade to Sky Tree plat hostel keikyu asakusa karin
Hello everyone! We are plat hostel keikyu asakusa karin.
Recently, it has become much warmer during the day.How are you all doing?
It feels good to walk under the sun in this season, doesn't it?
The guest who came to our hostel for a long term stay was working near the Tokyo Sky Tree and walked to work every day.
She said that walking is good for exercise, and she feels better and get ready for work.
So, we would like to introduce you to the "recommended walking path from karin to Tokyo Skytree" taught by the guests.
We will introduce karin as the start, Tokyo Sky Tree as the goal, and the places we found on the way up to that point.
First, leave karin and start walking toward Yokogawa Elementary School.
The guest told us, "Although there are usually many cars on this street, there are few car streets in the morning and you can take a leisurely walk."
You can see the Sky Tree from the road. The Sky Tree is still a little ahead.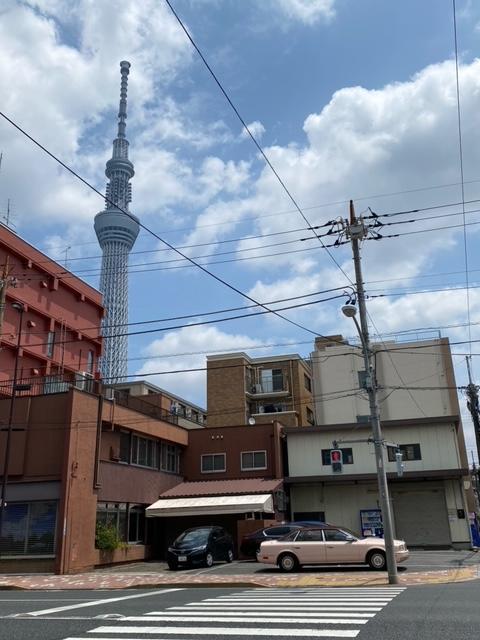 On the way, there was a Japanese style art on the window.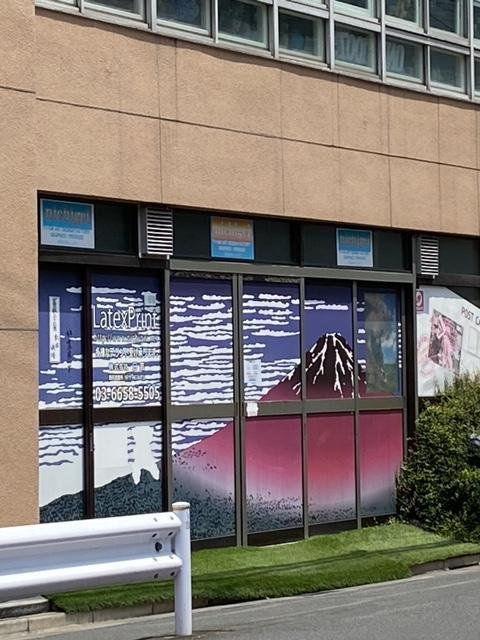 You will find these little things only when you are walking.
When I was absorbed in such art and walked, I was gradually approaching the Tokyo Sky Tree!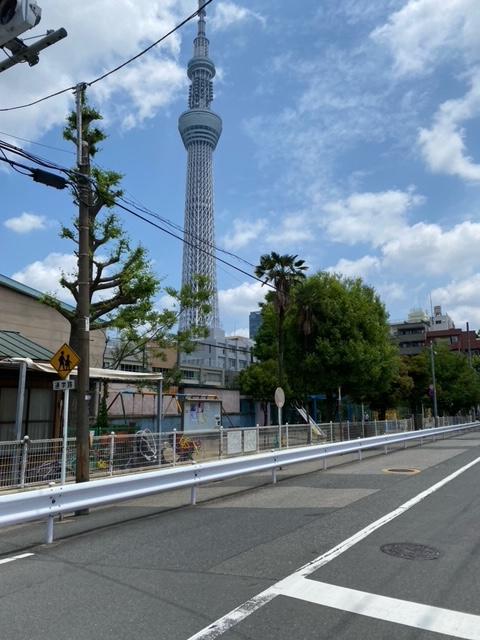 Little after, there is Yokogawa Park.
There were playgrounds and a sandpit in the park and cute fish on the fence.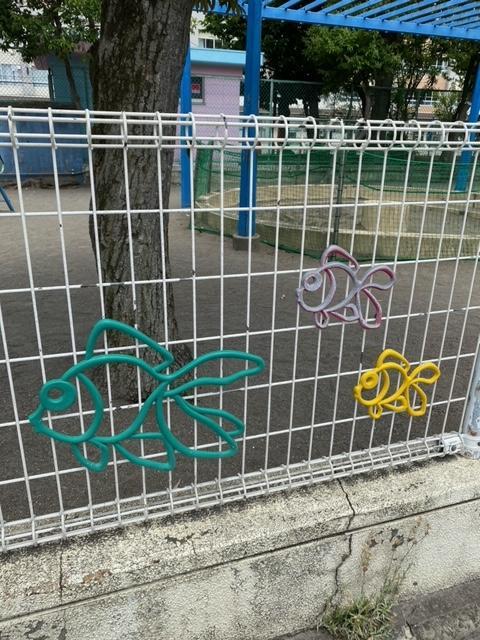 It was a quiet and calm atmosphere that you can enjoy only in the morning. Some people were taking a walk and some children were playing with a playset.
When I walked a little from there, I saw such a beautiful hydrangea.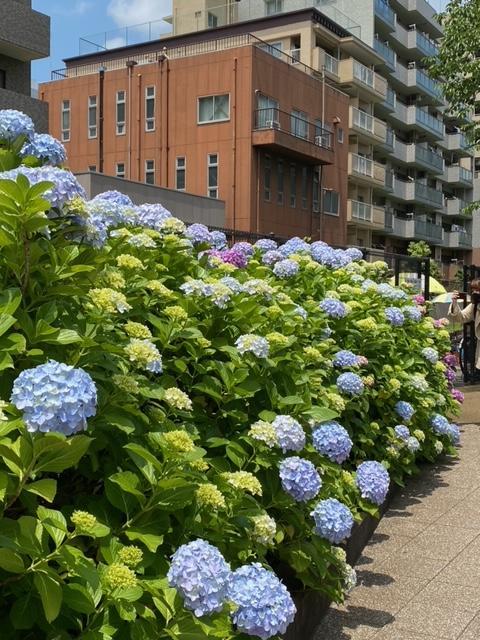 It's a wonderful view that symbolizes this season.I never imagined that I could see so many hydrangeas in Asakusa, and it made me surprised!
It's because of a walk that you can stop for a while, take pictures, and spend time slowly looking at your favorite scenery.
From that point on, I heard a child's happy voice, so when I went down in front of the bridge, I found Yokogawa Shinsui Park.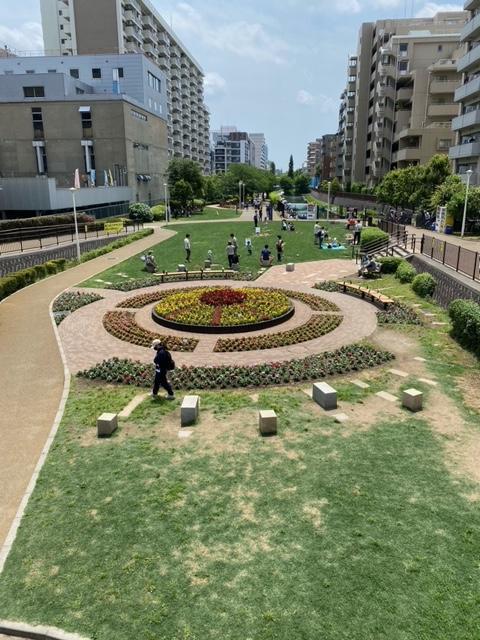 It is a very large park along the river, with fishing ponds, roller slides, and waterways where you can play with water. It's a park that you can enjoy with your children, especially in the hot summer!
You can go here alone and relax, or you can go with your family and enjoy yourself to the fullest!
Why don't you relax in the space surrounded by greenery?
Click here for more information on Yokogawa Water Park!
https://1000enpark.com/park/00999/
If the view was good and I was spending time slowly, the Tokyo Sky Tree was just around the corner!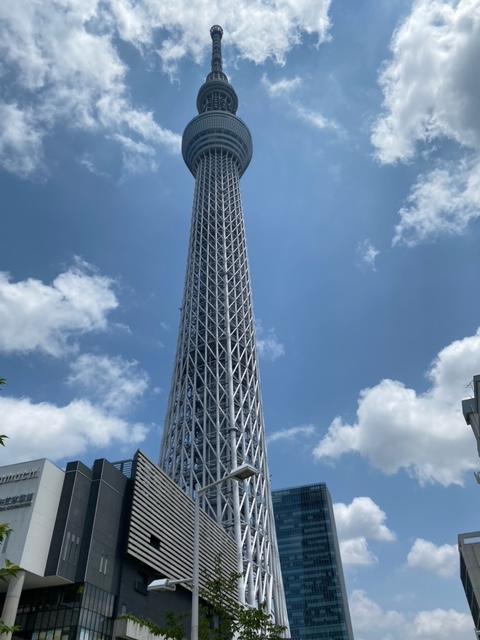 And I was able to arrive at Sky Tree safely! It was just the right exercise!
I walked leisurely on this day, but usually it takes about 15 to 20 minutes on foot from Karin to Tokyo Skytree.
When I took a walk this time, I was able to see the scenery unique to the walk.
If you walk around, you can find a landscape that is a little different from the urban landscape, and you can enjoy a relaxed atmosphere.
If you are staying at asakusa karin during this warm season, be sure to walk to the Tokyo Sky Tree.
If you find a new landscape, shop, etc., please share it with our staff!
We will continue to look for better walking courses.
Looking forward to it!
【plat hostel keikyu asakusa karin】
hostel details and booking from here: https://plat-hostel-keikyu.com/en/hostel/asakusa-karin/
Instagram: https://www.instagram.com/asakusa_karin/?hl=ja
Facebook: https://www.facebook.com/plat-hostel-keikyu-370685283519070/
For customers considering long-term stay: https://plat-hostel-keikyu.com/campaign/monthly/